Collecting Moments
A series of collections helping you be present with
your life and see God in your everyday moments
Compiled of 10 interactive resources, Collecting Moments is a series of ebooks, eguides and ejournals helping you notice the details of your life, to pay attention to what's going on around you, and to see God in your everyday moments.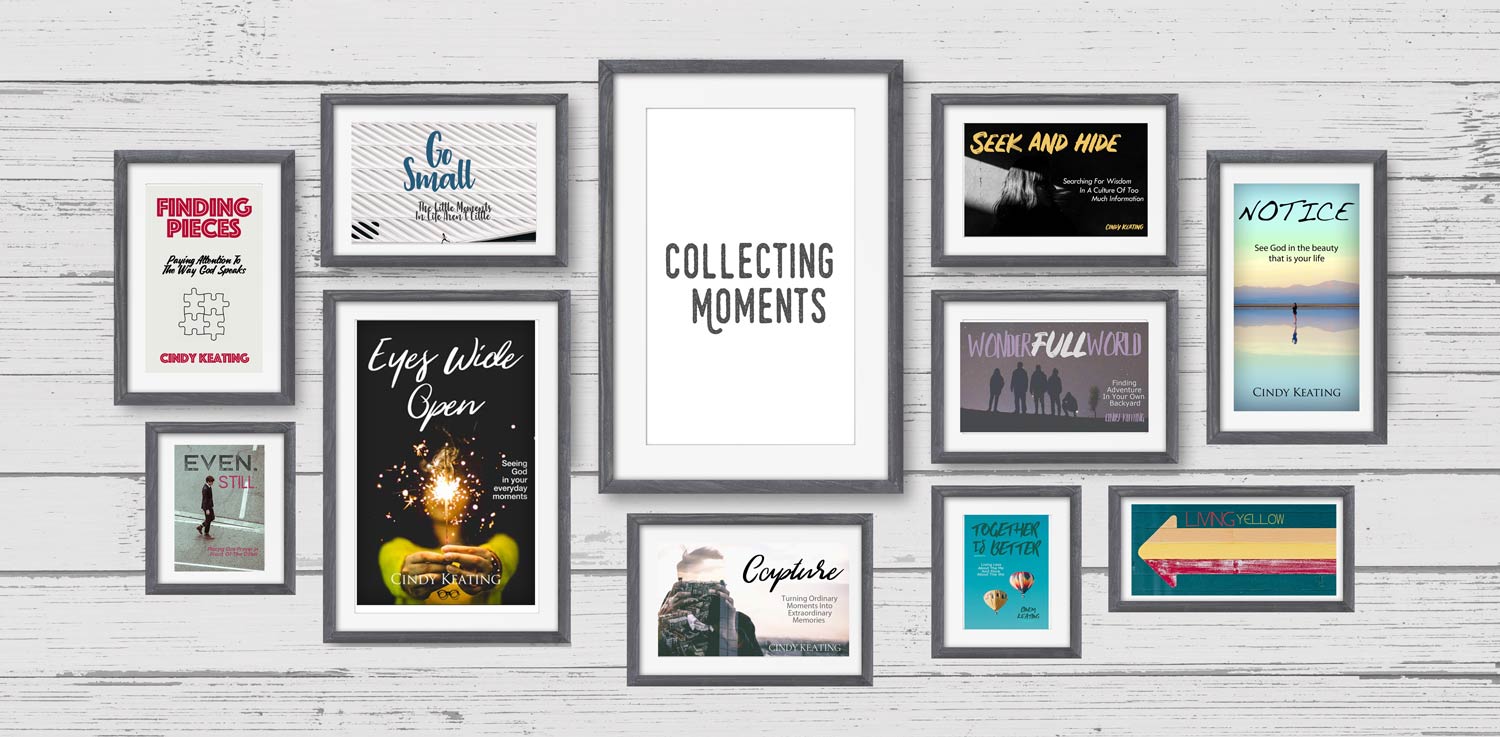 Collection ONE > An ebook
Eyes Wide Open
This ebook is an invitation to pursue the seemingly insignificant moments of your life with your eyes wide open. Discover how, when and where you can experience God in the most unlikely of places, at the most unlikely of times and through the unlikeliest of people.
Details & Sample Chapter
Collection TWO > An ejournal
Notice
This ejournal is an invitation for you to engage with your life and learn from it. Everyday, for 20 days, this journal will help you notice details— details in scripture, details in the world, details in your life, and details going on around you. Cause what would happen if you paused throughout your days to see God in the beauty that is your life? What might you Notice?
Details & Sample Chapter
Collection THREE > a visual eguide
Capture
Through a collection of daily photo challenges, Capture is an eguide helping you turn ordinary moments into extraordinary memories. Through the lens of your own perspective, this book helps you see your seemingly insignificant moments as a collection of stories, conversation, lessons, beauty, humor, reflection and memories.
Details
Collection FOUR> an ejournal
Go Small
The Little Moments In Life Aren't Little
Through a collection of interactive thought-filled moments, this ejournal will draw your attention towards a variety of little things you can be grateful for and help you implement gratitude practices into your day-to-day life. By taking a few moments everyday to acknowledge the things you appreciate about your life, you cause your heart to grow, your thankfulness to deepen, and your perspective to shift.
So, Go Small … because the little moments in life aren't little.
Details
Collection FIVE> an eJournal
Finding Pieces
Paying Attention To The Way God Speaks
This collection is an opportunity to gather the creative ways God speaks to you. It's a journaling practice that helps you assemble the pieces of your big picture puzzle through a variety of practical ways — scriptures, words, conversations, sermons, books, people, places, songs and more. God gladly uses these inspiring and relevant ways to talk with us, interact with us and engage with us, but we have to be paying attention in order to find the pieces and piece His messages all together.
Details
Collection SIX> an eGuide
Seek and Hide
Searching for Wisdom In A Culture of Too Much Information
This eguide is a daily reading challenge and journaling practice based on collecting wisdom from the book of Proverbs. It's an invitation to stop scrolling through and start searching for knowledge, insight and discernment amidst a culture of too much information. By hiding Proverbs in your heart and storing it as truth, you create space for wisdom to rewrite established assumptions, redirect misguided perspectives and redefine what's false for that which is true.
Details
Collection SEVEN> an eGuide
Together is Better
Living Less About The Me And More About The We
Whether through conversation and gathering or acts of service and love, this eguide will help you gather, connect, initiate and encourage the spirit of community in your corner of the world. You'll discover that living your life with the mentality that Together is Better will naturally cause you to share yourself and your life with anyone and everyone around you. In turn, you'll be drawn to moments and a life that are less about the me and more about the we.
Details
Collection EIGHT> an eGuide
Even. Still.
Putting One Prayer In Front Of The Other
Even. Still. is an eguide about prayer. It's a daily discipline and a reflective exercise helping you invite God into your current season of life and your day-to-day journey. It's an opportunity to walk and talk with God even when the road looks long and still when the road feels hard. By placing one prayer in front of the other, you allow Christ to order your steps and Christ to direct your path.
Details
Collection NINE > an eGuide
Living Yellow
Choosing To Slow Down When Life Speeds Up
Broken down into 25 days, Living Yellow takes you through a variety of tips, scriptures and journaling practices to help you collect more presence and mindfulness in your life. It's an eguide about reflection, stillness and slowing down when everything else about life speeds up, all with the hopes of shedding light on the importance of implementing more quiet and thought-filled moments into your days.
Details
Collection TEN > an eGuide
A Wonder FULL World
Finding Adventure In Your Own Backyard
Leading you through a series of scriptures, stories, thoughts and activities that help you see the adventurous moments of your everyday life; this eguide is meant to be fun and light-hearted because true adventure is not always a grand gesture. As you invite God into the adventure that is your life, He'll bring wonder FULL moments to your day-to-day and you'll be amazed to discover how adventures can unfold when you least expect them, right in the pocket of your very own backyard.
Details