A Wonder FULL Life
Finding Adventure In Your Own Backyard
Leading you through a series of scriptures, stories, thoughts and activities that help you see the adventurous moments of your everyday life; this eguide is meant to be fun and light-hearted because true adventure is not always a grand gesture. As you invite God into the adventure that is your life, He'll bring wonder FULL moments to your day-to-day and you'll be amazed to discover how adventures can unfold when you least expect them, right in the pocket of your very own backyard.
Introduction
Unlikely Places And Spaces
Ten years ago I bought a book written by a local author that loved to take road trips. She wasn't interested in flying halfway across the world in search of adventure; she was interested in exploring her own neighbourhood, her own backyard and her own heart. And her book was about exactly that — adventures one could take within ½ hour, one hour and two hours from one's front door.
Not only did my family and I love these adventures, but we also loved spending time together as we explored. We loved learning about the amazing things happening in our corner of the world. We loved discovering a love for taking adventures. But mostly, we loved recognizing that adventure really can be in your own backyard and in the unlikely places and spaces of ones own heart.
It was wonderful and full of wonder. And isn't that the point of adventure?
So Many Adventure Books
Everywhere we look there seems to be bigger and better adventure books just waiting to be purchased. It's as if adventure has been defined as "going somewhere" and "doing something."
1000 Places To See Before You Die
The 500 Best Experiences On The Planet
100 Dives of a Lifetime
225 of the World's Most Amazing Places
A Journey Through Every Country In The World
One-of-a-Kind Travel Experiences
400 Extraordinary Places
You get the idea.
But sadly, rather than serving to inspire us, these books only bring about the opposite. Instead, we're reminded of all the places in the world we'll never see and the things we'll never do. We feel less than because we can't afford such luxuries, and therefore our lives must not be and will never be "extraordinary" because we'll never see these "extraordinary" places. We then feel frustrated that our daily lives limit us from experiencing and fulfilling "one-of-a-kind" adventures and "one-of-a-kind" dreams. Which then only brings about a vicious cycle of discouragement with the way we see and live our lives.
With the way the world defines adventure, we'll be waiting a lifetime to actually save up enough time and money to experience adventure.
But what if God defines adventure as something so much more?
God Adventures
God led Abraham to a foreign land, but He also led Zacchaeus up a tree. God asked Esther to lead her people in a history-shaping way, but He also asked Ruth to simply follow her mother-in-law. God called Mary to be the mother of the Son of God, but He also called Nehemiah to rebuild a wall.
No two adventures look alike and no two callings are the same because God cares about whom we're becoming while we're "staying" and "being" as well as "going" and "doing."
Whether we're following a star, crossing the Red Sea, slaying a giant, building an ark, spying out new land or hanging out in the belly of a whale (or den of lions), God's adventures are about changing us, shaping us and moulding us to be more like Him.
His adventures are about teaching us to:
Look around
Notice what He's doing
Consider what He's doing
See everything as interesting
Observe His voice and movements
Journal what He's teaching
Trace the connections back to Him
Use all of our senses to the view the world
Ask questions
Listen to people; listen to Him
Share kindness everywhere we go
Smile big. Smile often.
Find ways to laugh, live, love, learn and share Him with the world
Defining Adventure
To adventure is to live an unusual, daring and exciting experience. This is not limited to "going" and "doing," but also includes "staying" and "being" when framed with the right perspective.
Adventure involves all kinds of experiences, all types of callings, and comes wrapped in many different forms of length, gifting, creativity and responsibility. God leads and guides each of us in and on a wide variety of adventures because He has shaped each of us differently and orchestrates each of our lives in divinely unique ways.
So instead of seeing adventure as "The 500 Best Experiences On The Planet," what if you learned to see the adventure of a STAYcation — as in, what God is doing in you and in your pocket of the world, right here and now?
Further, what if an adventure simply looked like hanging out in your backyard and enjoying the sights, the sounds, and the smells of what is going on in your neighbourhood?
What if adventure simply looked like talking to the man on the corner of the intersection that you see every morning at 9am?
What if adventure is simply about asking God to awaken you?
And what if the greatest adventure you could ever go on is in simply allowing God to reshape your perspective about how you see your life and how He could use you?
The Purpose of Adventure
Adventure reminds us who we are capable of becoming. When the mundane tasks of day-to-day life keep us hunkered down in responsibility, adventure nudges us towards possibility.
When we're plagued with doubts about where we're going and why, adventure shows us our potential.
When we feel lost in our insecurities about what we can't and won't ever do, adventure pulls us out of our comfort zones and into the potential of something more.
And when we step outside of ourselves and the normalcy of our everyday tasks, we're reminded that there's so much more going on in the world than just the structure and routine of our Monday-Friday, 9-5.
There's a bigger picture unfolding. There's a higher calling beckoning. There's a bigger purpose for loving and living in this world. And adventure is what inspires us to believe in a bigger version of ourselves when we remember to put our faith in a big God.
Saying Yes To Adventure
So what could happen if you decided to go on an adventure with God? Rather than desiring to fly halfway across the world in search of it, what if you got curious about exploring it in your own neighbourhood, your own backyard, but more importantly, your own heart?
What might He reveal to you?
What might you learn about yourself?
What adventure might He lead you on?
I'm betting you'll not only discover a love of adventure, but you'll also discover a love for spending time with God as you explore. You'll love learning amazing things about yourself, about Him, and about what's happening in your corner of the world. You'll be surprised to learn you love taking adventures. But mostly, you'll love recognizing that adventure really can be in your own backyard and in the unlikely places and spaces of your own heart.
But there's an invitation and RSVP involved.
You have to be willing to accept God's invitation for adventure and you have to be willing to invite Him to lead and join you along the journey.
If you do, it will be wonderful and FULL of wonder. I promise.
"We are not made for the cages we've erected around ourselves. We are meant for freedom. Where trees and mountaintops point to the stars and where canyons echo and waters cool and where wind is scrubbed clean by prairie grass. These are the lost places where we go to find God." —Roger W. Thompson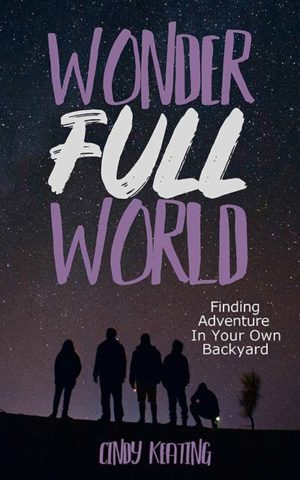 Collecting Moments
Collecting Moments is an ongoing series compiled of 10 collections—ebooks, journals, podcasts, music and more—geared to helping people see and experience God in the everyday moments of their life.
All content for Season One: Collecting Moments, including a copy of  A Wonder FULL Life, is part of a Season Pass.
Learn More