Capture
Turning Ordinary Moments Into Extraordinary Memories
Make Ordinary Extraordinary Memories
Through a collection of daily photo challenges, Capture is an eguide helping you turn ordinary moments into extraordinary memories. Through the lens of your own perspective, this book helps you see your seemingly insignificant moments as a collection of stories, conversation, lessons, beauty, humor, reflection and memories.
Introduction & How To Use "Capture"
It's just a picture of my son taking out the trash. Seems like no big deal, right? Wrong! It's all in how you see the moment. Everything changes when you choose to reframe your ordinary.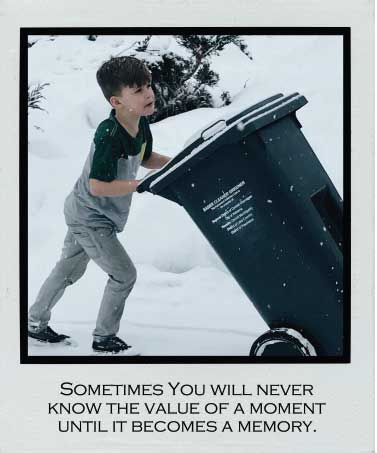 Let me explain. This is my youngest, Audie. He's taking the garbage bin down to the street curb for when the garbage truck arrives. Audie knows that every Friday morning this is the chore he and his brother share. It's become part of their Friday morning routine. But, "What's so great about garbage day?" you may ask.
Well … in this moment, I could have chosen to see the moment as yet another ordinary morning chore and something I would never want a picture of, or I could choose to lean in to what the Holy Spirit was trying to bring to my attention.
I decided to lean in to the nudge.
As a result, the Holy Spirit reminded me that my son was bringing this garbage bin down to the street without having to be reminded — which was a huge parenting win and something I definitely wanted to remember.
Teaching my children work ethic and dedication is a hard thing to instill, but when they start understanding this discipline in their own time and way, why not take a picture? Why not capture the progress? Why not appreciate the effort and the journey?
Besides, I found it funny he wanted to do this chore in sneakers and a t-shirt — while the snow was falling — and then was grumpy when he got cold. Go figure, child.
But did you catch what the Holy Spirit did? He helped me recognize a moment that needed to be captured.
Or take the following picture, for example.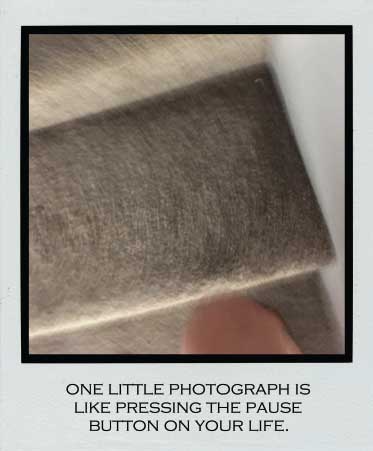 You probably have no idea what's even going on. Ha! But that's precisely what adds the "extra" to this otherwise ordinary moment.
Here's the backstory.
My boys think it's funny to take pictures of random things so that when I look through my iPhone's photo album, I find all kinds of "artistic" photos (their word, not mine). Without my knowing, images of toilets, socks, ear lobes, empty granola bar wrappers and pictures like the one you see — which is my son's knee as he's walking up the stairs — flash before my eyes. Lol.
But instead of deleting these pictures, I keep them. They mean something. They make me laugh. They surprise me. They delight me. These pictures, in their own silly way, document the childhood of my boys from the perspective of their goofy little natures. And because the Holy Spirit is continuously reminding me to be like little children and have faith like a child (Matthew 18:3), I think it's important to hold tight to this kind of humor and capture a light-hearted and child-like approach to life.
And then there's the following picture.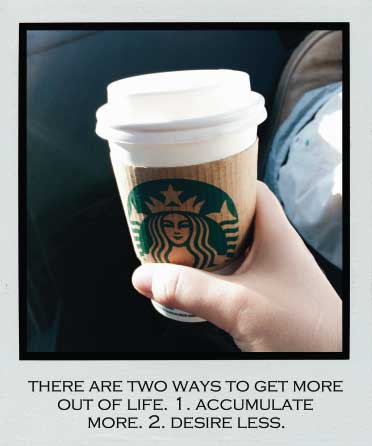 It may look like yet another person taking yet another picture of yet another Starbucks cup. But here's why this moment was important.
My family and I were on our way to the hill to go skiing. We had been extra busy with unpredictable life circumstances and hadn't had much quality family time in a very long time. My husband thought it would be a good idea for our family to spend the day skiing together. But truth be told, I didn't want to go.
Moments before I took this picture I was feeling overwhelmed with how much I had to do at home. I had upcoming retreats to prep for. I had a million emails to send. The house was a disaster.
The kitchen Reno's were certainly something that needed to get done. Company was coming in a few weeks and this introduction you're currently reading wasn't going to magically write itself. I was stressed knowing I couldn't afford the leisure time.
But in this moment something beautiful happened. The Holy Spirit spoke to my heart so loud and clear. He reminded me: "Cindy, enjoy your coffee and enjoy the moment. Your to-do list will always be long, but your boys will not always be around." God used this ordinary moment to remind me of an extraordinary truth. I took this picture to remind myself that leisure time is just as important as productive time.
And what about the following picture?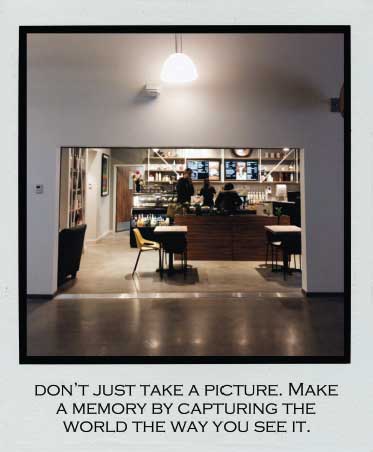 This may look like an ordinary coffee shop pic. But there's an extraordinary lesson behind this picture, too. This was a date morning. Chris and I had decided to explore some place different. While adventuring to the heart of our city's downtown, we stumbled upon a new coffee shop — which we both love to discover.
While waiting in line to order, God used this moment to remind me how this new discovery also paralleled my marriage. "If you're willing to put effort into your marriage, to adventure to new places together, to explore the heart of your togetherness and see your ordinary dates as meaningful and important, you and Chris will also stumble upon new discoveries about and within each other." I captured this moment as something to share and talk about with Chris when we celebrate our 20th wedding anniversary, and our 30th, and our 40th, and beyond. See how God works?
Then there's this beautiful moment …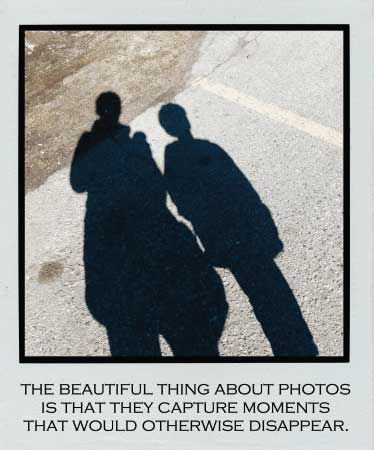 I captured it because of a meaningful conversation I was having with my son about how one day, before we know it, he will be taller than me, and our shadows will look a whole lot different. And even though we can't see Jesus' shadow, He's with us in life, and He is always walking in front, in back, and alongside us every step of the way.
And then this moment … A moment when the Holy Spirit reminded me that God's greatness is bigger, wider, deeper, longer, higher and far more reaching than any other view I could behold.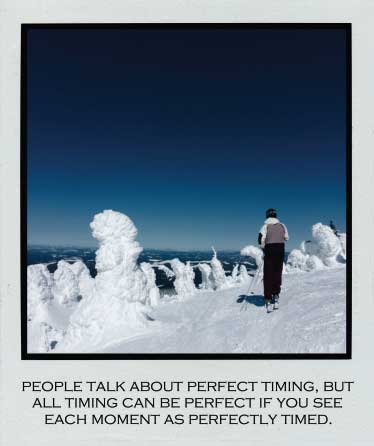 Each of these pictures may not seem meaningful to you, and that's okay. Our life journeys are going to be different. That's the point. That's the beauty of diversity. That's the creativity of Christ.
But the challenge for each of us is to capture how God is speaking to us in our own time and way.
For me, each above picture reminds me of a special life moment where God used my everyday to remind me of the extraordinary life I live in and through Him. But what's He saying to you? How's He speaking through your life? Each seemingly insignificant moment can feel ordinary in it's own way, sure. But when added up and assembled together, they become something so much more … they become a collection! — A collection of stories, conversation, lessons, beauty, humor, reflection, reminders and memories.
And then, when your assembly of ordinary is collected and reflected upon in hindsight, that's when you can see and connect the patchwork and path-work of God's design for your extraordinary life.
Your life suddenly becomes a collection of beauty.
By choosing to stop, appreciate and collect each of your ordinary moments, you are adding the perfect amount of "extra" to help you reframe your heart, mind and soul. And by allowing God to speak to you through these simple moments, you are choosing to allow Him to turn your ordinary moments into extraordinary memories.
You just have to be willing to Capture them.

How To Use This Book
This eguide is short, simple and sweet. Think of it like a photo journal, using photographs to document and capture what's going on in your everyday life. This book will guide you for 20 days while you take the pictures. But it's not something to breeze through; it's something to engage with.
The 20 chapters are broken into 20 days of capturing:
Capturing Memories
Capturing Color
Capturing Promises
Capturing Thoughts
Capturing Memories
Perhaps you've never thought of your ordinary moments as something to capture. That's what this section is all about. It's a daily challenge for you to open your eyes to see what's going on in your day-to-day life. In doing so, you're awakening your heart to see how extraordinary your life truly is. Whether it's the view out your bedroom window, what your 10 a.m. looks like, or something that represents comfort to you, by capturing these ordinary moments, you are choosing to redefine ordinary by solidifying them as memories that need to be captured and cherished.
Capturing Color
Life is often lived in black and white nature: right/wrong, up/down, on/off, us/them, light/dark, start/stop … but really there's so much more going on. All around us are shades of color, but have we taken the time to notice? Have we ever thought to capture them? Have we opened our eyes to see? And have we intentionally looked around to discover this beauty? This section is exactly that — a burst of color challenging you to see what is all too easy to overlook.
Capturing Promises
"So God has given both his promise and his oath. These two things are unchangeable because it is impossible for God to lie. Therefore, we who have fled to him for refuge can have great confidence as we hold to the hope that lies before us. This hope is a strong and trustworthy anchor for our souls. It leads us through the curtain into God's inner sanctuary" (Hebrews 6:18-19). And that's exactly what this section is all about — a place to be reminded of the many promises we have in Christ. When life hits at a million miles a minute and our minds lose focus, this section draws us back to the truth we need to capture, the truth we need to take hold of, and the promises we need to stand on.
Capturing Thoughts
Have you ever opened an email only for it to lead to a sea of rabbit-trail emails? One email leads to the next, the next email leads to social media, social media leads to all kinds of other articles … and video clips … and picture links … and before you know it, you've spent hours and hours wandering into territory that does nothing to capture what you're truly thinking and feeling. This section is an opportunity to put into words exactly what God is speaking to your heart. It's a chance for you to be intentional with what you're learning and what He's awakening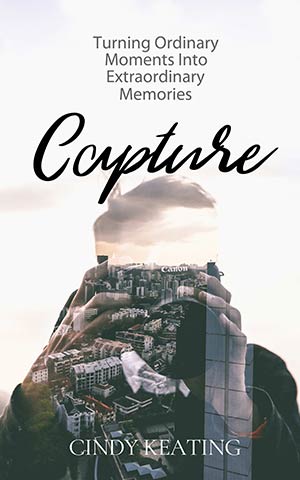 Collecting Moments
Collecting Moments is an ongoing series compiled of 10 collections—ebooks, journals, podcasts, music and more—geared to helping people see and experience God in the everyday moments of their life.
All content for Season One: Collecting Moments, including a copy of Capture, is part of a Season Pass.
Learn More