Have you ever taken a flight and packed too much stuff? You know that look you get from the airline rep as she glances from the weigh scale to your eyes while peering over her glasses? It's a look that makes you frantically try and explain yourself…"I tried," I tell her (hoping to not get charged). "I can assure you I weighed it before I left," I tell her. "It will never happen again," I tell her. But no slice no dice. My luggage is still 4, 5, 6, 7, 8, 9 pounds overweight.
Every once in a while you get a rep that lets it slide. But then, every once in a while you get a rep that makes you figure it out.
I'm learning to appreciate the ones that make you figure it out.
Why?
Because I know it's for my own good. The extra weight I'm packin' affects a lot of people including myself. I'm voluntarily lugging around unnecessary weight and it's kind of ridiculous.
Is this not like life?
No matter how hard you try to travel light, weight sneaks in. A couple pounds here, a couple pounds there. Next thing you know you feel weighed down from 20, 30, 40 pounds of excess life weight. "I'm trying to handle it," you tell your friends. "I assure you I have it all under control," you tell yourself. "This won't happen again," you tell God. But no slice no dice. Your luggage is still 4, 5, 6, 7, 8, 9 pounds overweight.
Christ doesn't want us to live this way.
He doesn't want us to avoid the baggage that is weighing us down. He wants us to confront it, to realign the poundage, to shed the excess, to redistribute the weight and to move forward with a lighter suitcase so we can walk with greater ease and purpose towards His destination for our lives.
But we have to admit our baggage.
I still remember pulling off to the side wondering what to do about the extra weight the airline rep had made me confront. I didn't even know where to begin. A complete stranger came up to me and said, "Overweight, huh?" I tried to laugh it off, but she could see I was panicked about missing my flight. I looked at her and asked, "I'm not sure what to get rid of." Then this complete stranger knelt down beside me and said, "Let me help."
How cool is that?
She helped me move pounds from my checked luggage into my carry-on, from my carry-on to my purse, from my purse to my checked. She even gave me advice on what I could get rid of. As much as I hated to throw stuff away, she assured me that I really didn't need it anyway. And you know what? She was right. I was 13 pounds lighter.
As I said thanks to my new stranger friend, I asked her how she knew what to do. She said something I will never forget.
"I've been there too. Helping you with your baggage helps give purpose to mine."
Profound.
This, then, is how Christ asks us to be for one another – to be friends who will help each other redistribute the weight and ease life baggage.
"Give, and it will be given to you. A good measure, pressed down, shaken together and running over, will be poured into your lap. For with the measure you use, it will be measured to you." -Luke 6:38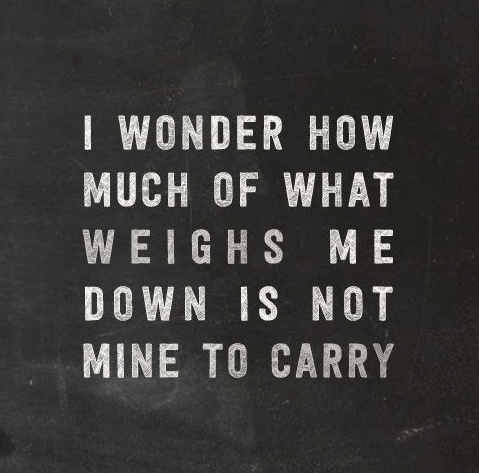 Do you know of someone going through a rough time right now? If so, might I encourage you to reach out to them today to say, "Let me help."