Sometimes you just wake up bummed, am I right? There may be no rhyme or reason for its cause; you simply get out of bed and… blah.
I had one of those days last week.
I dragged my feet to the coffee pot.
I dragged my butt to the reading chair.
I dragged my arms to the end table (which felt like lifting heavy bags of bricks) and I pathetically opened my Bible acting like I were a little 99-year-old lady.
No joke, my Bible fell open to Psalm 145.
My eyes immediately fell upon words like exalt, praise, sing and joy, and I was annoyed. Truth is, bubble gum goodness was the last thing I felt like becoming. I'm a girl, and sometimes girls are moody, and sometimes our moodiness tries to make us believe that staying in the zone of grumpy-pantness (not a word) and exaggerated sighs is totally justifiable.
Good thing God is greater than our emotions. 😉
Instantly God stirred my heart and I knew "exalt, praise, sing and joy" were the right way to go. My mind then flashed back to a conversation I had recently had with a friend who is going through some pretty dark marital conflict. I had asked her how she gets through the "blah" and she said she does one thing, and one thing only. She reads various passages of scripture about praise, out loud, until her mood shifts. Sometimes, she admitted, that takes her 5 minutes, and other times it takes her all day. Either way, she chooses to praise.
So that's what I did.
And guess what happened?
With every sentence I spoke, I could actually feel my blah mood lifting. How cool is that?
Ironically, we hear people say "Praise God!" when a prayer has been answered, or a miracle has just taken place. But who knew praising God at 5 in the morning is also the world's greatest mood shifter! Praise God! Lol… literally….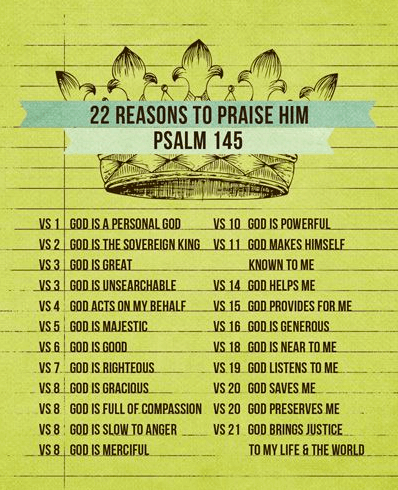 "I will exalt you, my God and King, and praise your name forever and ever. I will praise you every day; yes, I will praise you forever. Great is the Lord! He is most worthy of praise! No one can measure his greatness. Let each generation tell its children of your mighty acts; let them proclaim your power. I will meditate on your majestic, glorious splendor and your wonderful miracles. Your awe-inspiring deeds will be on every tongue; I will proclaim your greatness. Everyone will share the story of your wonderful goodness; they will sing with joy about your righteousness. The Lord is merciful and compassionate, slow to get angry and filled with unfailing love. The Lord is good to everyone. He showers compassion on all his creation. All of your works will thank you, Lord, and your faithful followers will praise you. They will speak of the glory of your kingdom; they will give examples of your power. They will tell about your mighty deeds and about the majesty and glory of your reign. For your kingdom is an everlasting kingdom. You rule throughout all generations. The Lord always keeps his promises; he is gracious in all he does. The Lord helps the fallen and lifts those bent beneath their loads. The eyes of all look to you in hope; you give them their food as they need it. When you open your hand, you satisfy the hunger and thirst of every living thing. The Lord is righteous in everything he does; he is filled with kindness. The Lord is close to all who call on him, yes, to all who call on him in truth. He grants the desires of those who fear him; he hears their cries for help and rescues them. The Lord protects all those who love him, but he destroys the wicked. I will praise the Lord, and may everyone on earth bless his holy name forever and ever."