Eyes Wide Open
Seeing God in Your Everyday Moments
Do You See Him?
He Is Everywhere, In Everything, In Everyone
Through a collection of stories and scripture challenging you to see God in the everyday moments of your life, Eyes Wide Open is an invitation to discover how, when and where, you can experience Him in the most unlikely of places, at the most unlikely of times and through the unlikeliest of people.
Table Of Contents
Moments of Ordinary
Chapter 1: Add A Little Extra
Moments of Stress
Chapter 2: Hold On To Hope
Moments of Play
Chapter 3: Step, Stop, Then Sit
Moments of Noise
Chapter 4: Identify The Voice
Moments of Gratitude
Chapter 5: Say Thank You
Moments of New Beginning
Chapter 6: See The Genesis Story
Moments of Interruption
Chapter 7: Embrace The Opportunity
Moments of Need
Chapter 8: Plant A Crazy Amount
Moments of Weakness
Chapter 9: Think 300, Not 32,000
Moments of Uncertainty
Chapter 10: Remember The Bigger Picture
Moments of Faith
Chapter 11: Anticipate The New You
Moments of Busyness
Chapter 12: Don't Lose Sight of Jesus
Moments of Choice
Chapter 13: Think About Your Home
Moments of Struggle
Chapter 14: Ask For Help
Moments of Warning
Chapter 15: Let Them Pass
Moments of Frustration
Chapter 16: Be The Encouragement
Moments of Anger
Chapter 17: Let Go And Trust It'll Be Worth It
Moments of Questioning
Chapter 18: Don't Get Your Directions Mixed Up
Moments of Confrontation
Chapter 19: Rewrite Your Truth
Moments of Failure
Chapter 20: Believe There's A Foundation Forming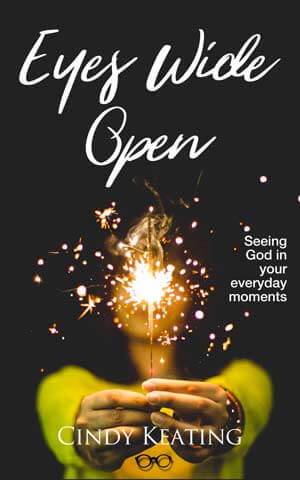 Collecting Moments
Collection One : An Ebook
Eyes Wide Open — the first collection to be released in the ongoing series, Collecting Moments.
Collecting Moments is an ongoing series compiled of 10 collections—ebooks, journals, podcasts, music and more—geared to helping people see and experience God in the everyday moments of their life.
All content for Season One: Collecting Moments, including a copy of Eyes Wide Open, is part of a Season Pass.
Learn More