Conversations To Have
Be Brave Enough To Start Conversation That Matters
Questions Ignite Conversation.
An ebook encouraging people to ask honest questions, explore meaningful conversation and foster safe environments where opinions can be expressed, questions can be unburdened, life perspectives can be voiced and faith journeys can be shared.

Table Of Contents
01
Why Are We So Afraid To Be Vulnerable?
02
Our Circumstances Are Different, But Our Tears Look The Same
03
I Am Rich And So Are You
04
Sleep Deprivation Is Hell, But So Is Love Deprivation
05
This World Is A Mess But There IS Something We Can Do
06
The Facebook Version Of Our Lives Is Not The Real, Better Or Only Version
07
Why Are We So Afraid To Embrace What's Different?
08
What We Can Do For Those Who Are Different
09
Why Do We Wait Till It's Too Late To Tell People How We Feel?
10
Be The Person You Wish Other People Would Be For You
11
For The Type Of Community You Seek, Will You Step Out And Lead?
12
Has Church Become Another Thing To Do?
13
What In Life Do You Need To Purge?
14
My Best Friend Busy Is No Friend Of Mine
15
What Physical Cancer Can Teach Us About Other Kinds
How This Book Came To Be


Conversations To Have originally started out as individual blog posts that stirred up a lot of discussion and conversations online. Seeing the desire people had for intentional conversation and real-life community, this book was assembled to help foster these conversational communities. With that purpose in mind, this book is designed for small group discussion, living room hangouts, coffee shop talks and bonfire banter, so we can all be brave enough to start conversation that matters.
How This Book Works

Details To Note:
Divided into 15 chapters, each chapter is meant to inspire and encourage 15 different conversations centering on 15 different themes. The most effective way to journey through this book is to commit to meeting once a week for the duration of 15 weeks.
As a way to break the ice and have a few good laughs (because who doesn't like having fun?), there are five starter questions at the beginning of each chapter. The answers can be as serious or as silly as you make them. There are no rules.
Each chapter also ends with a few facilitating questions pertaining to the chapter's topic. These questions, however, are not meant to be a destination but rather a point of departure. Use the questions to initiate discussion, but please, please, please, go beyond! Do your own thing! Ask your own questions! Start your own unique convo's! And I would love to hear the creative questions your group comes up with in the process (if confidentiality permits). Email me: cindy@cindykeating.com
The size of the group is up to the group.

Nudges To Remember:
Your group will only go as deep as you yourself are willing to go deep.
There are no correct or incorrect answers, only honest or dishonest ones.
Be prepared to push yourself beyond the simple "yes" or "no" answers.
Be honest, be brave and let your mind become an open book as it engages with people of different thought and opinion than you.
Agree to disagree.
Commit to confidentiality.
Be okay with moments of silence. Sometimes conversational pauses are actually people getting themselves ready to walk out onto the diving board. Give them time, space and respect.
Be willing to go deep quick. Don't wait until week 15 to truly engage. It will be your loss if you do.

Conduct To Consider:
If you have no problems being the first to answer questions, try to refrain. Be silent for a little longer than usual. Let others go first.
If you typically tend to be quieter in group settings, challenge yourself to speak up. Push yourself beyond your engagement comfort and surprise yourself.
Don't compile a group of only your friends. How will you grow? Seek out people with differing opinion than you. Invite diversity. Welcome contrast. Encourage healthy disagreement.
Don't be preachy. Preachy people are annoying.
Laugh. Heavy topics should always have a healthy dose of humor thrown into the mix because how else can we deal with the weightyness of life?
If someone gets offended or something uncomfortable happens, commit to working it out as a group until you can reach an understanding (even if you have to agree to disagree). This book is meant to challenge thought and help us understand one another. It is not intended to create greater divides.
If it would help, come up with your own "Conduct To Consider" list based on answers from the group. This way everyone is given an opportunity to mention something that is greatly important to them when confronting vulnerability. Start each gathering by reading and remembering what conduct is most important to the people in your group. This is a respect thing. And respect is super important when participating in exposing conversation.

Scripture To Ponder: 
Be quick to listen, slow to speak—James 1:19
Show deep love for each other—1 Peter 4:8
Let everything you say be good and helpful— Ephesians 4:29
Be kind to one another—Ephesians 4:32
Treat others as you wish to be treated—Luke 6:31
Show respect —1 Peter 2:17
Live in peace—Romans 12:18
Let the Holy Spirit guide you—Galatians 5:15
Do not judge—Matthew 7:1-5
Be patient—Colossians 3:12
Be wise and discerning—James 1:5
And above all, clothe yourselves with love— Colossians 3:14-17
Don't let anger control you—Ephesians 4:26
Don't go to bed angry—Ephesians 4:26

Because We All Like Discounts
Got A Group?
If you have a group (at least 2 people), email hello@cindykeating.com with the group size and I'll send you a personalized discount code.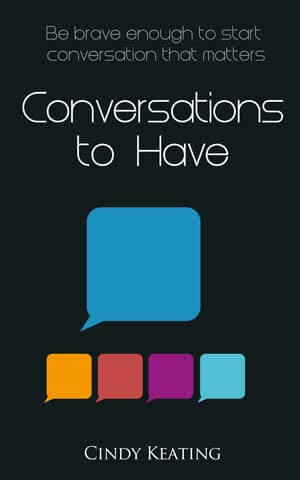 Collecting Moments
Collecting Moments is an ongoing series compiled of 10 collections—ebooks, journals, podcasts, music and more—geared to helping people see and experience God in the everyday moments of their life.
All content for Season One: Collecting Moments, including a copy of Conversations To Have, is part of a Season Pass.
Learn More