There are times in life when people get rattled. I admit, I am currently one of those people. I admit, I'm currently in that place. But life is raw and so is this post.
DISCLAIMER: I realize the title implies offence. I was 100% aware of it's harsh nature when I wrote it. This post was written during a fury of emotion, and because of that I waited a whole 24 hours before doing anything about it. I slept on it. I asked people to read it for perspective. I prayed about it. I pretty much laid awake into the wee hours of the morning wondering if it were appropriate. I woke up this morning, and here's what I've decided: It needs to be said. But for those of you who don't know me, for those of you being introduced to me through this post for the first time, let me preface this post with links to other posts so you're aware of the other sides of me: "Encouragement For The Discouraged."  "What Does It Mean To Abide In Christ?"  "What Physical Cancer Can Teach Us About Spiritual Cancer."  "What Is Worship?"  I am not angry with God in general, I believe strongly in church community, I have gone to bible college, I regularly attend church, I do my daily devotions and believe my faith runs deep. But there are times in life when, seriously, where is God? This post stems from that sincere question – a question I believe a lot of people ask. With that said… here is my post…
But first, let's put faces to the story you are about to read. These are the MacNeil's, and this is their story.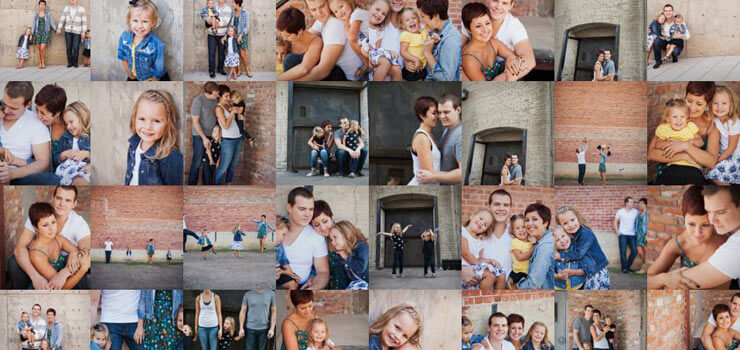 My friend's three-year-old little girl, Kyla, was diagnosed with leukemia on Friday morning. You'd think that would be enough to throw someone over the edge, but there's more.
This friend, Amber MacNeil, 30, with two little girls, was diagnosed herself with a brain tumour in 2011 and has been battling cancer every since.
There's more.
Amber, along with my other friend, Kristen, who were good friends, battled their cancer's side-by-side. Amber is still fighting. Kristen passed away on Oct. 4th, 2013, at the age of 30, leaving behind a wonderful husband and three little boys. Understandably, Amber was a mess at Kristen's funeral.
"Cin, it was like watching my own funeral. It was so real. It hit so close to home."
There's more.
Amber started 6 ½ weeks of treatment the middle of September and toughly slugged through 30 rounds of radiation, but said this to me when I went to her house on October 26:
"It's been tough, but I can still make a difference in someone's life even while I'm going through radiation. Like this guy who is always at the institute going through chemo, it doesn't require much effort on my part to sit for a few minutes and chat with him. He has no family, no support, so the least thing the girls and I can do is spend a little time chatting with him, ya know?"
I left Amber's house and had a big ol' bawl fest in my truck because… Amber is beautiful inside and out.
There's more.
Amber finished her last round of radiation on October 30… AND ONE WEEK LATER – are you kidding me? – took her daughter Kyla to the doctor thinking she had mono like her older daughter, Kinley. They immediately admitted Kyla to the hospital for a blood transfusion as well as a bone marrow test and boom, Ky was diagnosed with leukemia Friday morning.
I know what you're feeling, I have felt it myself – it's all too much.
I know what you're thinking; I have thought it myself – "Where the _____ is God?"
Oh wait, I'm sorry, should I not admit that? Should I write something differently than what I actually said – out loud, at full volume – to God? Have I shown weakness as a Christian? Have I reflected doubt in my faith – he who doubts is like a wave tossed back and forth, right?
Sigh… let's be honest people…. there are times in life when questioning is downright appropriate and expected… wondering where God is, is reality… when anger is a normal human response. I'm pretty sure the person who actually invented the first swear word had in fact just been told their three-year-old daughter was about to face a long gruesome spiralling brush with death – regardless of the doctor's optimism.
So there, I admit it…. I call myself a Christian… I call myself a worship leader… I call myself someone of faith… but when I read the text, "Kyla has been diagnosed with leukemia," I looked up at my roof and said… uh… hmmm… let's just say I would never want my boys to repeat me.
Also. When I told my husband, Chris – my easy-going, quiet disposition, teddy bear of a guy, husband – he punched the wall and… guess what word came up?
Also. When I talked to Amber (a worship leader herself) on the phone yesterday morning, she was crying and ticked off while admitting she's mad at God…. guess what word came up?
Also. When I talked to Amber's best friend, Berrie, and she admitted how mad she is… guess what word came up?
Also. When my sister heard the news and sent me a text… guess what word came up?
A theme occurring? OF COURSE! Why? Because we're mad. Why? Because we're human. Why? Because… HOW ON EARTH ARE WE SUPPOSED TO MAKE SENSE OF THIS? HOW ON EARTH ARE WE SUPPOSED TO SHOW THE LOVE OF JESUS WHEN DEEP DOWN I QUESTION HOW A LOVING GOD COULD ALLOW SOMETHING LIKE THIS TO HAPPEN?

You should know, there is no point to this blog post other than to be perfectly honest: I'm mad.  I'm mad for Amber. I'm mad for Ryan. I'm mad for Kinley (Kyla's 5-yr-old sister). I'm mad for Erin and Berrie, who are Amber's closest friends and now have to find the strength to be strong for Amber. I'm mad for Amber & Ryan's parents who have to watch their children go through this. I'm mad for my brother-in-law, Kevin, who is a Pastor, and now when something like this happens, everyone turns to the Pastors for answers. But he's also human, and seriously, what's he supposed to say?
And I'm mad for little Kyla… who's THREE… who doesn't even know what's going on… that sweet little girl… that beautiful little bundle of joy… seriously God, WHY??????
P.S Please don't comment with all the cliché churchy things we've all heard before. I have been a Christian for 30 years, I even went to Bible College, I know God will never give us more than we can handle. I know God will turn this around somehow for his glory. I know that God is bigger and better than anything my mind, or Ryan and Amber's, could comprehend. I know that the peace that transcends all understanding will guards our hearts and minds in Christ Jesus. I know these things. They know these things. I don't need to hear it. They don't need to hear it.
My personal request is that you pray for the MacNeil's… that somehow, and in some way, God would prove he's real even in the midst of this… like a miracle… I'm ready to see a miracle in sweet little Kyla… I'm ready to see God pull through in a really big way…
P.S.S If this is the first post you will ever read by me, or if you've stumbled upon this blog for the first time… you should know this post is very out of place for me. In fact, I'm usually the person cracking super cheesy jokes. I see life through an optimistic lens. I love games. I love dress up parties. I love to laugh. I dance terribly but hold epic dance parties in my living room with my little boys who will one day be enlightened to the fact that their mom is uber embarrassing. Please read my other posts that host a much more more light-hearted approach to life (I promise)…. but for today's post, just respect that I'm mad. Respect, that for today, this is where I am at.
P.S.S.S Amber has given me permission for this post to be published. I would never disrespect her crisis by pretending to understand what she is going through.
The end.